Cats are killing 1.8 million Aussie reptiles per day
Most people know that cats kill many birds and mammals, but they also have impacts on less charismatic species.

Australian cats are killing about 650 million reptiles per year, according to new research published in the journal Wildlife Research.

The findings are based on a study of more than 10,000 cat dietary samples that were contributed by researchers from across Australia.



A Shingleback Lizard. This species appears in a high proportion of cat stomach samples. Photo: Ed Dunens CC BY 2.0 Wikimedia Commons

Lead researcher from Charles Darwin University Professor John Woinarski said that while previous research demonstrated that cats had a severe impact on Australia's mammals and birds, this was the first nation-wide assessment of the extent of predation by cats on Australia's lizards and snakes.

"On average each feral cat kills 225 reptiles per year, with the highest toll in inland Australia," Professor Woinarski said.

"Some cats eat staggering numbers of reptiles. We found many examples of single cats bingeing on lizards, with a record of 40 individual lizards in a single cat stomach."

"We collated records of cats killing 250 Australian reptile species including 11 threatened reptile species."

Professor Woinarski said that while feral cats are not the main problem facing all of these species, they are causing decline for some species, such as the threatened great desert skink.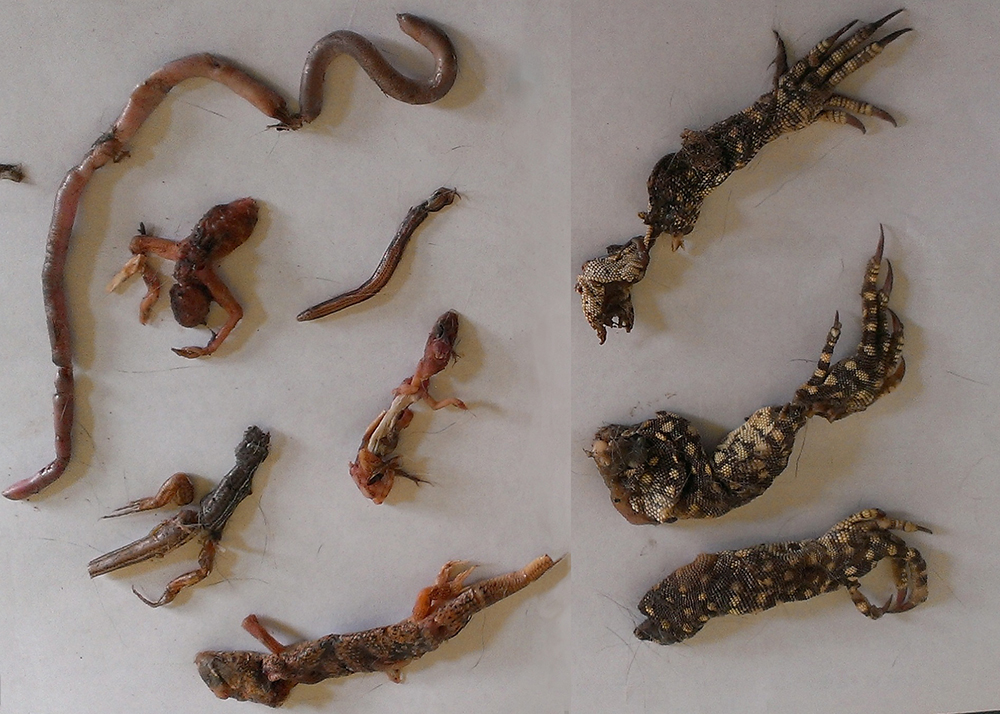 Contents of the stomach of one feral cat culled in arid South Australia, showing two species of gecko, a skink, sand slider and blind snake. Photo: Arid Recovery.


"Comparing our findings with research from overseas we found that feral cats eat more reptiles in Australia than they do in the US or Europe," he said. "This could be because we have more abundant reptiles in Australia."

The research was undertaken by the Threatened Species Recovery Hub of the Australian Government's National Environmental Science Programme.

The Hub is a collaboration of 10 leading Australian universities and the Australian Wildlife Conservancy to undertake research to support the recovery of Australia's threatened species.




The contents of the stomach of one feral cat that was culled in Australia's arid zone showing a large number and wide variety of prey animals including many reptiles and small mammals. Photo John Read

Australia's Threatened Species Commissioner Dr Sally Box said, "This new research is sobering, but up to date scientific evidence is important to understanding the devastating impacts of feral cats on our native wildlife."

"Science drives action and my office will continue to work with our partners and the Australian community to protect Australia's unique native animals from the impact of feral cats."

"The research shows the number of reptiles killed by pet cats and strays is also high. I would like to commend pet owners who are containing their cats, which is both safer for their pets and better for Australia's wildlife."



Top image:  Stomach contents of one feral cat showing a large number and wide variety of reptiles. Photo John Read