Threatened species on Indigenous land may be of prime interest to scientists and ecologists, but they are often not the species of greatest importance to the Indigenous landowners. Understanding local priorities for biodiversity is an essential step in ensuring that conservation projects are locally beneficial and supported. Researcher Tom Duncan from Charles Darwin University has been collaborating with the Tiwi Land Council and Tiwi Land Rangers to explore this issue on the Tiwi Islands, and fills us in on what he discovered.

The Tiwi Islands are a place where exceptional natural values occur in conjunction with a unique and enduring culture. Some 2500 Tiwi people call the islands home and continue to look after their ancestral estates as they have done for thousands of years. At the same time, they are adapting natural resource management to novel ecological and social circumstances.

Scientists and threatened species conservation managers often want to work on the Tiwi Islands because of the threatened species that live there, and because the islands act as a refuge from some of the threatening processes implicated in wildlife declines on the mainland. Any proposed threatened species management actions need to take place with the support of Tiwi people, because they have cultural rights and responsibilities to look after their Country, and they continue to depend on the islands for their economic and cultural livelihoods.

Tiwi people and threatened species managers value the biodiversity of the islands for different reasons. However, there is potential for conservation actions to deliver outcomes that provide benefits to both the Tiwi community and threatened species populations.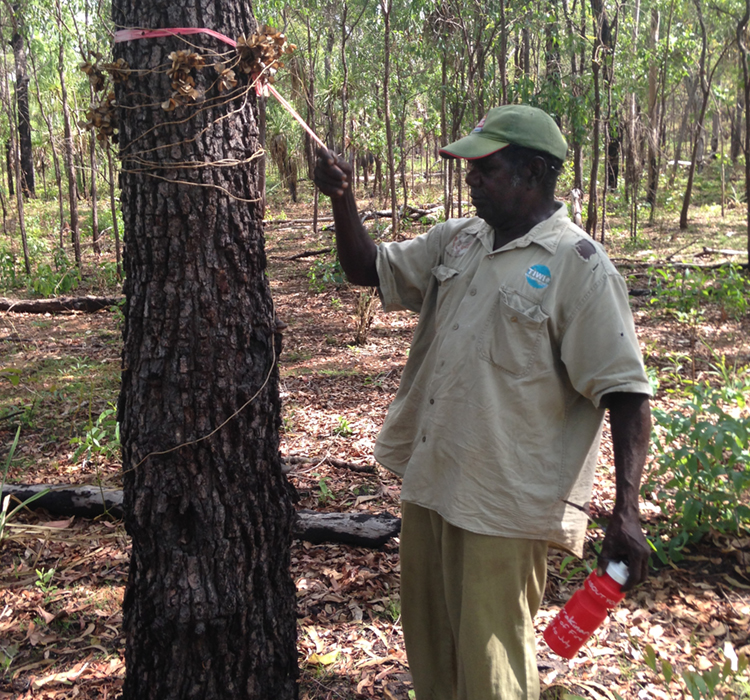 Tiwi Land Ranger Colin Kerinaiua looking for muranga, a culturally important yam that used to be a staple Tiwi food. Photo: Tom Duncan
  
Tiwi species and Country values

Identifying Tiwi priorities for natural resource management is essential to planning conservation actions and ensuring that the Tiwi community benefits from partnerships with external conservation managers. As part of the research for my PhD, I talked with Tiwi landowners to identify their priorities. We discussed which plant and animal species are important and why, whether they were worried about any particular plants or animals, and what are the most important threats to Country, plants and animals.

The Tiwi Land Rangers, a group that carries out and facilitates land management activities on the islands, were integral to the research process. They identified appropriate landowners to talk to, helped explain the project objectives and purpose to Tiwi participants, and translated between Tiwi and English where necessary. The discussions took place in the communities of Wurrumiyanga, Milikapiti and Pirlangimpi and during trips out to Country on the islands.

The discussions revealed differences in the ways that Tiwi landowners and threatened species managers perceive species to be significant and how these species should be looked after. Many of the species that are of most concern to threatened species managers on the islands are small, nocturnal mammals like Butler's dunnart and the brush-tailed rabbit-rat. These animals are not hunted and do not have specific Tiwi names, and were not mentioned during discussions by most Tiwi landowners. However, the Tiwi Land Rangers are familiar with these species, because they have collaborated with scientists and conservation managers in research and monitoring projects focusing on them.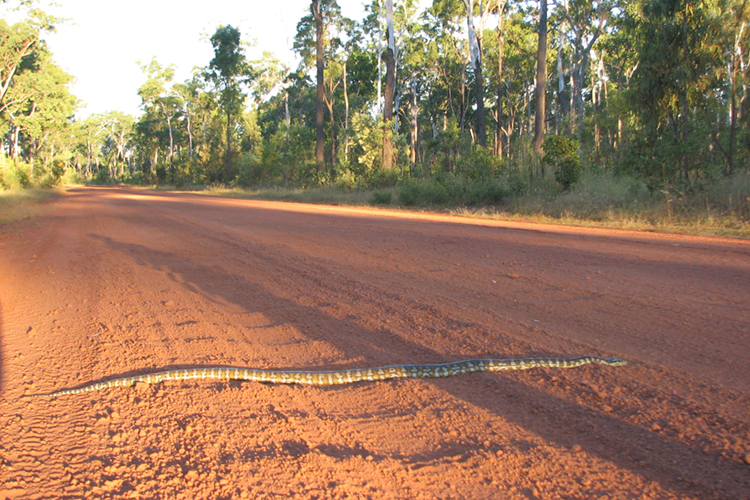 Carpet snakes are a focus of hunting for Tiwi people. Photo: Tom Duncan


Important plants and animals

The species that Tiwi landowners identified as important during discussions were diverse, but some of the most commonly mentioned were kitirika (green turtle), yuwala (buffalo), mantuwujini (dugong), minta (cycads) and muranga (long yam). These species, along with many others, are integral to looking after Tiwi culture and identity. They are important to Tiwi people as a focus of hunting, trips to collect bush tucker and other Country-based activities, and they appear in stories and dances, and are central to Tiwi ceremonies. In many instances, people emphasised the importance of looking after the cultural values that were associated with species rather than focusing on their management through ecological interventions. For example, these cultural values can include transferring knowledge to younger generations about particular species, and continuing to use Tiwi names for plants and animals in preference to English names.

Priorities for species management varied significantly between the people I talked to as part of the research. This was partly because Tiwi landowners are responsible for particular Countries within the islands that have different cultural and ecological values – for example, buffalo occur on some Tiwi Countries but not on others. It was also because priorities are context-specific within Countries, which means that a certain species might simultaneously be valued, but also negatively impact Tiwi cultural values in some situations. For example, crocodiles have cultural significance because they are a totem for some Tiwi people, but in some areas they can impact cultural activities, because they inhibit access to Country or compete for important food sources like turtle eggs.



Eating minta ( Cycas armstrongii) requires a comprehensive knowledge of how to prepare seeds. Photo: Tom Duncan


Aligning priorities, bridging worldviews

The results of the research suggest that there may be agreement between Tiwi landowners and threatened species managers about which threatening processes are priorities to manage. Cats have been implicated in the declines of many of the threatened species on the Tiwi Islands. Many Tiwi landowners also identified cats as a significant problem, because they prey on species like bandicoots and possums that have important cultural values.

This research has potential value to Tiwi natural resource management planning and decision-making processes because it identifies a range of landowner priorities, and articulates some of the differences between the ways Tiwi landowners think about significant species and the approach of threatened species managers. The research also highlights the importance of the Tiwi Land Rangers in bridging different worldviews, because the rangers act as intermediaries between traditional Tiwi approaches to conservation management and Western conservation approaches. Tiwi Land Ranger Coordinator Willie Rioli cites this as one of the benefits of the research:

"Nobody has done this work before, asking Traditional Owners what's important. It's good to work with scientists to look after Country, but we've also got to  make sure we listen to our elders."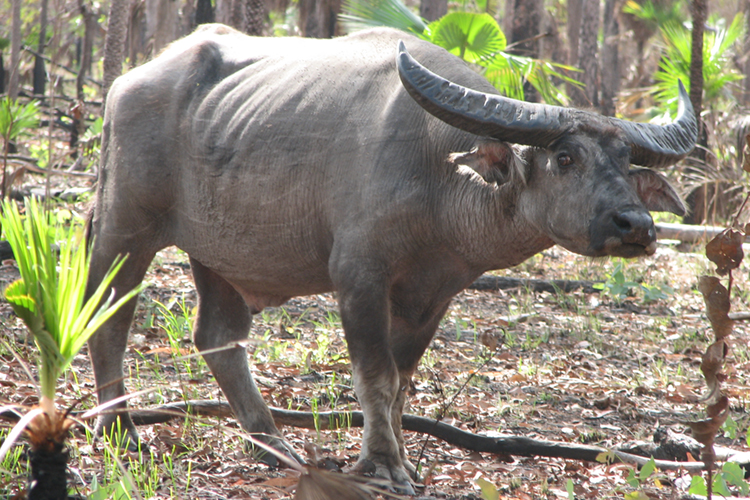 Buffalo are a culturally important animal but can cause negative impacts in some areas. Photo: Tom Duncan


Benefits to threatened species managers include recognition that Tiwi species values might not only be different to their own, but can vary considerably within the Tiwi community, and may also change across time and space.

Negotiating priorities about species management in context-specific ways with appropriate landowners is therefore likely to be important in planning future collaborations. Including actions designed to support and strengthen culture and language is also likely to lead to benefits to Tiwi landowners. These factors need to be considered in the planning stages of threatened species collaborations and funded and resourced appropriately if such collaborations are to be effective.

This Threatened Species Recovery Hub project was a collaboration between Charles Darwin University, the Tiwi Land Council, the Tiwi Land Rangers and CSIRO, and is part of a broader hub project which is exploring Indigenous engagement in threatened species management. It is supported by the Australian Government's National Environmental Science Program.


For further information

Tom Duncan - thomasalexander.duncan@cdu.edu.au

Top image: Researcher Tom Duncan and Traditional Owner Connell Tipiloura discussing species management priorities. Photo:Willy Roberts