Many "working coastal wetlands", including ports, commercial salt works and wastewater treatment plants, host important habitat for threatened migratory shorebirds. Although artificially created, these areas can be attractive high tide roost sites for migratory shorebirds, particularly when the area is closed to the public. Amanda Lilleyman from Charles Darwin University and Micha Jackson from The University of Queensland tell us about why disturbance on public beaches can be a real problem for shorebirds and why some industrial sites are very important to species like the Critically Endangered far eastern curlew.

Migratory shorebirds, which undertake some of the most incredible migrations on earth, are in serious decline globally. An analysis of monitoring data spanning 1973 to 2014 showed population decreases in 12 of 19 migratory shorebird species in Australia. Further, the Threatened Species Index (TSX;https://tsx.org.au) has shown an average decline of over 60% in the population sizes of 11 species of migratory shorebirds since 1980, the most concerning finding for any group of birds.

Within this group, the far eastern curlew has experienced one of the most acute declines of any Australian shorebird species. An analysis of Australian and New Zealand monitoring data showed that its annual rate of decline has been 5.8%; if this trend persists, the global population will fall to 10% of its 1993 abundance by 2035. Around three-quarters of the global population is thought to spend the non-breeding season in Australia.

We are part of a Threatened Species Recovery Hub project which is undertaking research to help support the recovery of the far eastern curlew, and which is expected to also benefit many other shorebird species.


A disturbing business

Around the world, multiple threats are impacting migratory shorebirds throughout their lifecycles. One of the most significant threats in Australia is disturbance – especially at high tide roosts. A common cause of disturbance is people and their dogs using beaches for recreation.

Disturbance causes shorebirds to expend extra energy keeping watch and fleeing by walking or flying instead of just resting or feeding. The consequences are often underappreciated, but can be significant, resulting in reduced weight gain – weight that is vital to enable birds to complete long migrations back to their northern hemisphere breeding grounds.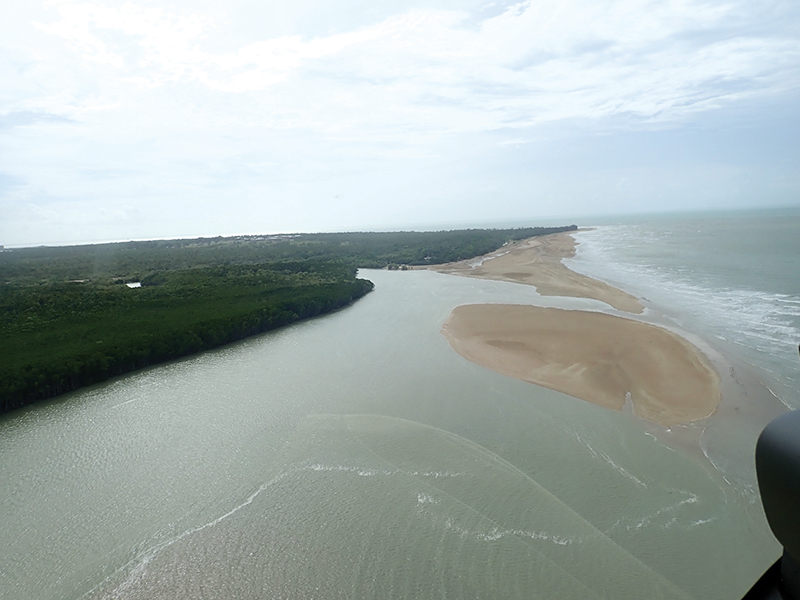 The shoreline at Lee Point, just north of Darwin, would be ideal roosting habitat for migratory shorebirds if not for frequent disturbance by people and their dogs. Image: Amanda Lilleyman


Alarming results

Lee Point is a long stretch of natural beach and adjoining mudflats just north of Darwin. Expansive, backed by natural vegetation and free from any development, the area would be considered ideal high tide roosting habitat except for one factor: the area is a very popular place for people and dog walking – much of which is off-lead.

Amanda led a study on the impact of alarm flights on migratory shorebirds at Lee Point. She found that the energy spent as a result of 10 alarm flights per day could have serious consequences such as reducing reproductive success or even survival.

A lack of roosts that are safe from disturbance may even constrain the number of shorebirds that a given region can support. Another study led by Madeleine Stigner at The University of Queensland within a protected area in Brisbane's Moreton Bay found that the recreational use of foreshores, particularly with dogs, consistently reduced the occupancy and abundance of shorebirds.

The study was undertaken in areas that were designated as dog-on-lead, but found that many people still allowed their dogs off-lead. They also found that strategic zoning could be used effectively to accommodate both migratory shorebirds and recreational use; well-located dog off-lead beaches could reduce the impact of dogs on migratory shorebirds in other areas.


Artificial refuges

In Australia there are several very important migratory shorebird roosting sites that have been artificially, usually unintentionally, created. While these sites should not be considered a replacement for natural habitat, a number of studies have shown that artificial habitats can provide attractive high tide roosts, particularly when they are shielded from disturbance. They can also provide foraging opportunities for some species.

Artificial sites used by shorebirds in Australia are generally associated with commercial salt production, ports, wastewater treatment and, in some cases, specifically constructed roosts. Some notable examples of shorebirds using artificial habitats in Australia include:
Constructed evaporation ponds within several commercial salt operations in the Gulf St Vincent, South Australia, which have consistently held over 15,000 shorebirds during counts over the past several decades.
Constructed wastewater treatment ponds at the Western Treatment Plant, Victoria, which consistently hold internationally important numbers (more than 1% of the global population) of multiple shorebird species. The ponds are used throughout the tidal cycle for roosting and foraging by different species.
Reclamation areas generally consisting of dredge spoil ponds within multiple ports, including the Port of Brisbane, Gladstone Port, Port of Newcastle, Broome Port and Darwin Port. In some cases, a significant proportion of the local shorebird population uses roost habitat within a port at high tide.
A common characteristic of the sites above is their relative inaccessibility to the public, meaning that birds can roost with little disturbance. 



A lack of disturbance by people and dogs can make sites like the East Arm Wharf settling ponds in Darwin Port valuable roosting sites for migratory shorebirds. Image: Michael Lawrence -Taylor


Darwin Port

On the other side of Darwin from Lee Point are the East Arm Wharf settling ponds. Although artificially created, and part of the busy commercial Darwin Port, the ponds are a very important roosting site for the far eastern curlew, sometimes holding close to 1% of the global population. As such, managers of the port are important custodians of the species, and take pride in this responsibility. Darwin Port is also a partner in the hub research project and is contributing funding to the research.

The East Arm Wharf ponds provide roosting habitat at all tide heights (high tide heights in Darwin can vary from about 5.5 metres to over 8 metres) and surveys have found consistently large numbers of roosting far eastern curlews. The abundance of this species, and others at the site, has increased over the past nine years despite global declines over the same period.

Far eastern curlews are also not the only species benefiting from the East Arm Wharf ponds; surveys by the project team have found 27 species of shorebird roosting at the site at high tide when surrounding mudflat feeding habitats are inundated.

In contrast to Lee Point, a large part of the attractiveness of East Arm Wharf to migratory shorebirds is believed to be the lack of disturbance from people and dogs.

In addition, it is close to suitable foraging habitat on intertidal mudflats. In combination, the short travel distances and lack of disturbance mean that birds can minimise their energy expenditure, so more of the energy they get from foraging can go into very important weight gains.


Finding space

The shorebirds of our region inhabit and migrate along the most heavily developed and densely populated coasts in the world. Their survival is threatened by severe habitat pressures that occur throughout their non-breeding range. Population recovery of declining shorebird species partially depends on us finding new ways to accommodate them in areas dominated by human activity.

This Threatened Species Recovery Hub project is led by Charles Darwin University and The University of Queensland in partnership with the Larrakia Traditional Owners and Darwin Port.


Further reading

Clemens, R.S., Rogers, D.I., Hansen, B.D., et al. (2016) Continental-scale decreases in shorebird populations in Australia. Emu, 116, 119–135.

Lilleyman, A., Franklin, D.C., Szabo, J.K. & Lawes, M.J. (2016) Behavioural responses of migratory shorebirds to disturbance at a high-tide roost. Emu, 116, 111–118.

Stigner, M.G., Beyer, H.L., Klein, C.J., & Fuller, R.A. (2016) Reconciling recreational use and conservation values in a coastal protected area. Journal of Applied Ecology, 53, 1206–1214.

Studds, C.E., Kendall, B.E., Murray, N.J., et al. (2017) Rapid population decline in migratory shorebirds relying on Yellow Sea tidal mudflats as stopover sites. Nature Communications, 8, 14895.


Further information

Amanda Lilleyman - Amanda.Lilleyman@cdu.edu.au
Micha Jackson - M.Jackson@uq.net.au

Top image:  Shorebirds flee from people walking their dog on a Darwin beach. Image: Amanda Lilleyman