The Threatened Species Recovery Hub is working with a new, interdisciplinary research and extension initiative at The Australian National University, Sustainable Farms. The initiative has its foundations in a long-term biodiversity data set collected by Professor David Lindenmayer's team over 20+ years in the south-east Australian sheep–wheat belt. Sustainable Farms is exploring how enhanced biodiversity underpins productivity, and supports better farmer mental health. Sustainable Farms is bringing together farmers, researchers from finance, health and ecology, NRM agencies, agricultural service providers and many others. Jaana Dielenberg reports.

Since European settlement, over 90% of box gum grassy woodland has been cleared from agricultural regions in south-eastern Australia. This has had disastrous impacts on biodiversity, especially woodland birds. For a number of threatened species in this area, their prime habitat is within the agricultural zone. Examples include the squirrel glider, southern bell frog and superb parrot.

Organisations such as Landcare groups, Local Land Services, Catchment Management Authorities and Greening Australia have been actively engaged in tree-planting programs in the box gum grassy woodlands for the past three decades in a bid to address habitat loss (and other problems such as salinity). This has resulted in substantial increases in native vegetation cover in some regions. Alongside this on-ground work by a range of groups and individuals, David Lindenmayer and his team at ANU have been conducting on-farm research for more than 20 years, monitoring biodiversity and ecological values from northern Victoria through to south-east Queensland.

Long-term monitoring has created a unique data set: demonstrating changes in biodiversity outcomes over two decades on agricultural land. In doing so, the research has also been able to demonstrate the impact of planting design on biodiversity – showing that the plantings that support the most bird species, including birds of conservation concern, are larger in size, block-shaped, connected to other plantings or have patches of remnant vegetation nearby, located in gullies, support an understorey, and are established around large old paddock trees.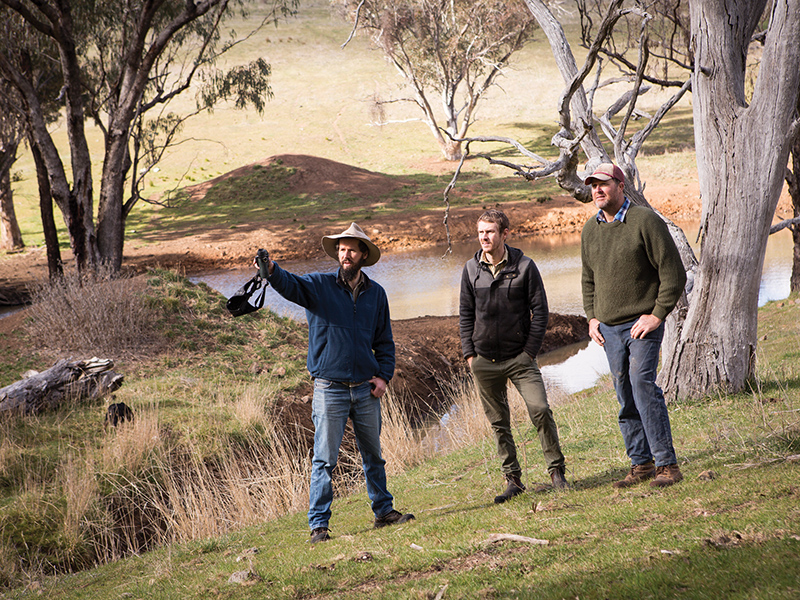 Sustainable Farms Research and Extension Officers Daniel Florance and Dave Smith with farmer Ged Fulwood. Ged's property, located near Orange, New South Wales, is part of the Sustainable Farms long-term grazing study. Image: Alex Craig

The field ecologists engaged in this work have had thousands of conversations with hundreds of farmers which, over time, revealed something else: that not only does farm management influence biodiversity, but that farmers who worked to protect natural assets on their farm noticed a positive impact on productivity. And for many, healthy biodiversity on farms appeared to correlate with good mental health, wellbeing and resilience during tough times.

From 20 years of solid ecological data as well as these vital seeds of observation and anecdote from farmers, Sustainable Farms was born: a multi-disciplinary project where three key areas overlap – healthy farms (ecology research), healthy farmers (mental health research) and healthy profits (finance research).
Burnbank Farm, near Wagga Wagga and owned by Rick and Pam Martin, is a prime example. Following a fire 35 years ago there was hardly any native vegetation on the farm; less than 2% was treed. The farm had major problems with soil erosion, salinity, rising water tables, low productivity pastures and poor crop yields.

When Rick and Pam took over management of the property, they started a revegetation program, adding woodlots and replanting shelterbelts throughout the property. They also enhanced habitat features like rocky outcrops. ANU researchers have now been monitoring the farm for nearly 20 years throughout the period of work undertaken by Rick and Pam, and have documented transformative landscape-scale changes.

Tree cover is now about 14% of the property. As the planted vegetation at Burnbank has matured, biodiversity levels have steadily increased. The ecological monitoring work undertaken shows that plantings at Burnbank now support over 90 species of woodland birds, including a range of species of conservation concern, such as the flame robin, speckled warbler and crested shrike-tit. Some of these species are breeding on the property, despite being in decline in the surrounding region.

But Rick and Pam noticed benefits that extended beyond native species. They saw a reduction of ecological problems like salinity and an increase in farm productivity. The family has great satisfaction in what they have achieved and derive many positive well-being benefits from experiencing the ever-increasing natural values on their property.



Rick and Pam Martin have undertaken significant planting at their property Burnbank, increasing tree cover from 2% to 14% of the property and supporting over 90 species of woodland birds. This fenced established planting has provided drought refuge for yellow-faced honeyeaters, which visited from more arid western parts of the state in winter 2018. Image: Clare Crane

And it's these links between enhanced natural assets and other benefits – productivity and wellbeing – that Sustainable Farms aims to explore. The links between healthy farms, healthy farmers and healthy profits has huge potential for the ability of rural communities and wider society to work together to maintain and support natural assets on farms.

One of the great strengths of the Sustainable Farms initiative is that the team's field-based ecologists live and work in regional towns and are part of those communities, and have been throughout the ANU's long-term monitoring work. Recently, the team expanded to include engagement staff, also regionally based,
who work directly with farmers and the Landcare network.

The engagement team strengthens the connection between farmers and researchers, ensuring that farmers' questions are addressed through the interdisciplinary research that Sustainable Farms undertakes. In turn, the engagement team enables the dissemination of research outcomes to farmers and to the Landcare and NRM community – by supporting a network of farmers, creating new tools and resources, organising field days and setting up peer-to-peer training.



This unfenced dam in the south-eastern sheep wheat belt will be vulnerable to silt and nutrient build-up, as well as fouling by faeces and pugging. Image: Bindi Vanzella
 
A new Sustainable Farms research project is comparing improved and unimproved farm dams. Improved dams are fenced to limit stock access to one location, avoiding fouling of the dam, and banks are planted with a wide band of grass, trees and other vegetation to filter paddock run-off, shade the water, increase aquatic plants to enhance water quality, and improve biodiversity both within and surrounding the dam.

The interdisciplinary research will look at the biodiversity outcomes of improved farm dams, but also whether they improve water quality and subsequently livestock health – a key question for many farmers.

With growing climate volatility and other pressures on the agricultural sector, it is increasingly important for people to work together across sectors, disciplines and regions, and this is what the Sustainable Farms initiative is about.


For further information
Jaana Dielenberg - j.dielenberg@uq.edu.au  

Top image:Fencing this dam has allowed regeneration of fringing vegetation, which helps to filter nutrients from paddock run-off, shade the water and increase biodiversity both in and around the dam. Stock can get to the dam via a single access point, reducing fouling and pugging of the dam. Sustainable Farms is currently undertaking research to investigate the biodiversity and productivity benefits of improving farm dams. Image: Helen Fitzgerald