Braedan Taylor
Karajarri Head Ranger, Karajarri Indigenous Protected Area and Karajarri Rangers

Tell us about your organisation

I work for the Karajarri Rangers, who are directed by the Karajarri Traditional Lands Association. The Karajarri Indigenous Protected Area covers more than 32,000 square kilometres of jurarr (coastal areas) and pirra (inland areas). Our work is directed by our cultural leaders and Traditional Owners.



Karajarri Head Woman Ranger Jackie Shoveller shared cultural knowledge about important plants such as nyaminyari (billygoat plum).  Image: Karajarri IPA

What Threatened Species Recovery Hub research have you been involved in?

Our Indigenous Protected Area is huge and access from the ground is hard, so we have been using aerial burning to manage fire over large areas. We want to see if this is helping wildlife, if the country is in good shape and if the fire management is working.

This hub project helped us to work with partners to set up a monitoring program for pirra (desert shrublands) and marangurru (spinifex country). We have had two monitoring trips in 2019 so far. Unfortunately, we had to put our April trip on hold this year due to the coronavirus, but we are hoping to complete both monitoring trips later in the year.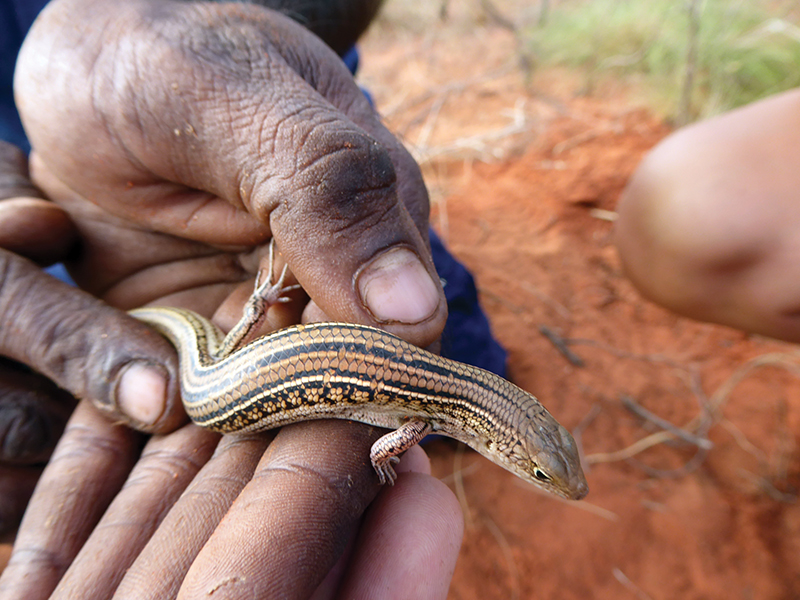 The monitoring is showing Karajarri Rangers that as they get fire under control, and stop the big desert wildfires, there will be more grass cover and leaf litter on the ground, and also more small mammals and reptiles. Image: Sarah legge and Karajarri
 
How is this useful to Karajarri?

The monitoring work is showing us that as we get fire under control, and stop the big desert wildfires, there will be more grass cover and leaf litter on the ground, and also more small mammals and reptiles. We plan to do this monitoring work twice a year, at Edgars and Kulgara, for a few years, to really understand what fire does to the wildlife and to help us manage fire to keep country healthy.


What has been good about the collaboration?

For me it has been good to learn more about the bush tucker plants and to hear stories from Jacko, Karajarri's Head Woman Ranger. Also learning about reptiles and mammals from the scientists and ecologists working with us in the field. It's helping me to better understand the reasons in white fella way for us to do that burning we do. We also have reasons for burning culturally and that's why we as rangers are working with our old people and through that working with our partners to help us get out to remote pirra country for fire burning.

Top image: Braedan Taylor. Image: Nicolas Rakotopare