This week scientists from the Australian National University and the National Environmental Science Programme have started a crowd-funding campaign to try to avert a massacre of the critically endangered Swift Parrot by Sugar Gliders.

The nomadic nectar eating parrots travel in flocks and nest wherever in Tasmania the gum trees are flowering best – a strategy that worked well until Sugar Gliders were introduced to Tasmania.

Sugar Gliders, a type of little possum, may be cute, but are the parrot's number one predator, and love to snack on nesting birds, eggs and chicks.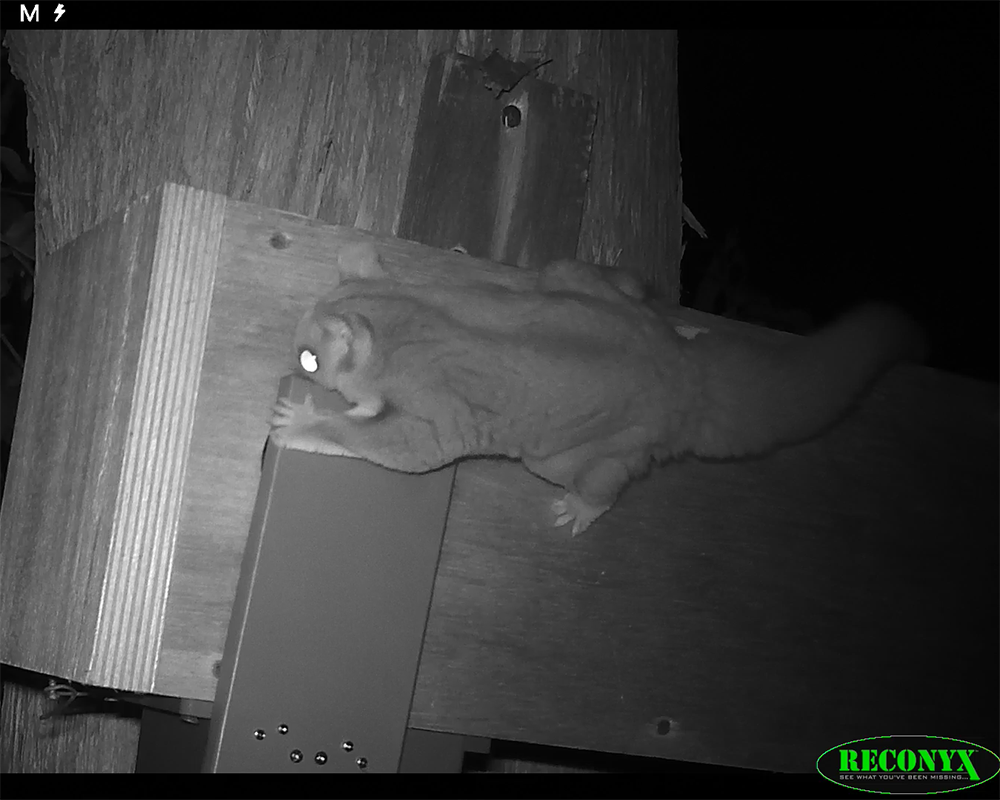 Sugar Gliders blocked from entering nest boxes by possum excluder. Photo ANU

This year the parrots have started congregating in Tasmania's east coast, due to abundant eucalypt flowering in the region. Unfortunately the region is also known to have very high number of Sugar Gliders. Australian National University conservation scientist Dr Dejan Stojanovic said that in the past when the parrots have nested in these forests it has been a massacre.

"In some of these places, we've never had a chick survive. If we don't intervene immediately, this year could be a huge blow to the conservation of this species," said Dr Stojanovic.

Dr Stojanovic and his team have developed a device to protect the parrots in their nests, but need funds to roll them out.

"Sugar Gliders are active at night, when the parrots are sleeping in their nests. So we have developed a sugar glider excluding device that locks the front door of nest boxes at night, when parrots are at risk, but opens during daylight to let parrots move freely.

"The door is triggered by a light sensor to open at sunrise and to close at sunset. It is powered by a solar panel and has a back-up battery. The prototypes we tested worked well, and the parrots didn't mind the machinery.

"Our main problems now are costs and timing. The birds are starting to arrive and are looking for nesting sites now, so we need to act right now.



Researchers, arborists and volunteers ready to install nestboxes in this year's Swift Parrot breeding area. Photo ANU

"We already have a hundred nest boxes deployed in the region, but adding the possum excluders will cost $400 each, so we are running a crowd-funding campaign on Pozible this week to urgently raise funds.

"Last year Swift Parrots nested on Bruny Island, which has a shortage of tree hollows for nesting but is thankfully Sugar Glider free," said Dr Stojanovic.

"With the support of more than a thousand people through crowd funding, and by working with arborists and volunteers, last year we installed hundreds of nest-boxes on Bruny Island. It boosted the population by about 300 birds, that's huge for a critically endangered animal.

"But unless we can install enough possum excluders this year, those big gains will be lost and we could have less Swift Parrots than ever before by the New Year.



Dr Stojanovic checks a nest box 20m up. Photo ANU

"Last year people gave generously to the crowd-funding campaign to install the nest boxes. We are hoping people will give to the new crowd-funding campaign so we can avoid the looming massacre and protect the gains we made last year," said Dr Stojanovic.

Dr Stojanovic's team's research on Swift Parrots is supported by the Threatened Species Recovery Hub of the Australian Government's National Environmental Science Programme. Their work to conserve the Swift Parrot and other Tasmanian birds has recently been selected as a finalist in the 2017 Banksia Sustainability Awards.


Media support, photos and videos - Jaana Dielenberg, TSR Hub Science Communication Manager, j.dielenberg@uq.edu.au 0413 585 709


Top Image: Young Swift Parrot. Photo ANU