A collaborative research project between the Northern Territory Government's Department of Environment and Natural Resources (DENR) and Parks Australia has found that feral cat exclosures have a positive impact on local reptile populations.

The research published in Biological Conservation found that in plots where cats were excluded reptile abundance increased at twice the rate, compared to cat-accessible plots.

Six, 64 hectare plots (each larger than 50 football fields) were established within Kakadu National Park, with data collected between November 2013 and November 2015.
Two of the plots were fenced with floppy tops preventing cats from entering the exclosures but the fence mesh was large enough to allow small native animals to move in and out.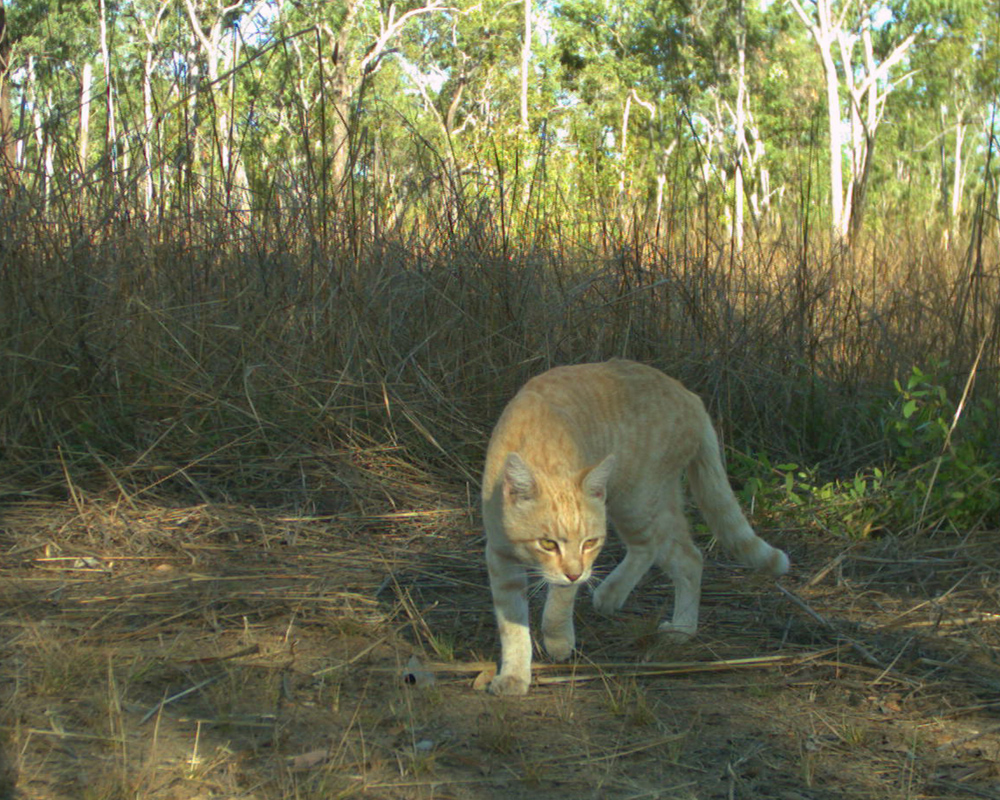 A feral cat captured on camera trap in the study area. Photo: Northern Territory Government
Four of the plots remained unfenced to provide a comparison.
DENR flora and fauna acting executive director and report co-author, Dr Graeme Gillespie, said three experimental treatments were applied to the plots to compare and contrast responses of reptile abundance and richness to predator exclusion and the additive effects of frequent fire, as follows:
Predator exclusion and fire suppression

No predator exclusion and fire suppression

No predator exclusion and no fire suppression
Dr Gillespie said a total of 2647 individuals of 31 species of reptile from eight families were caught across seven sampling sessions, all of which were within the prey size range for feral cats.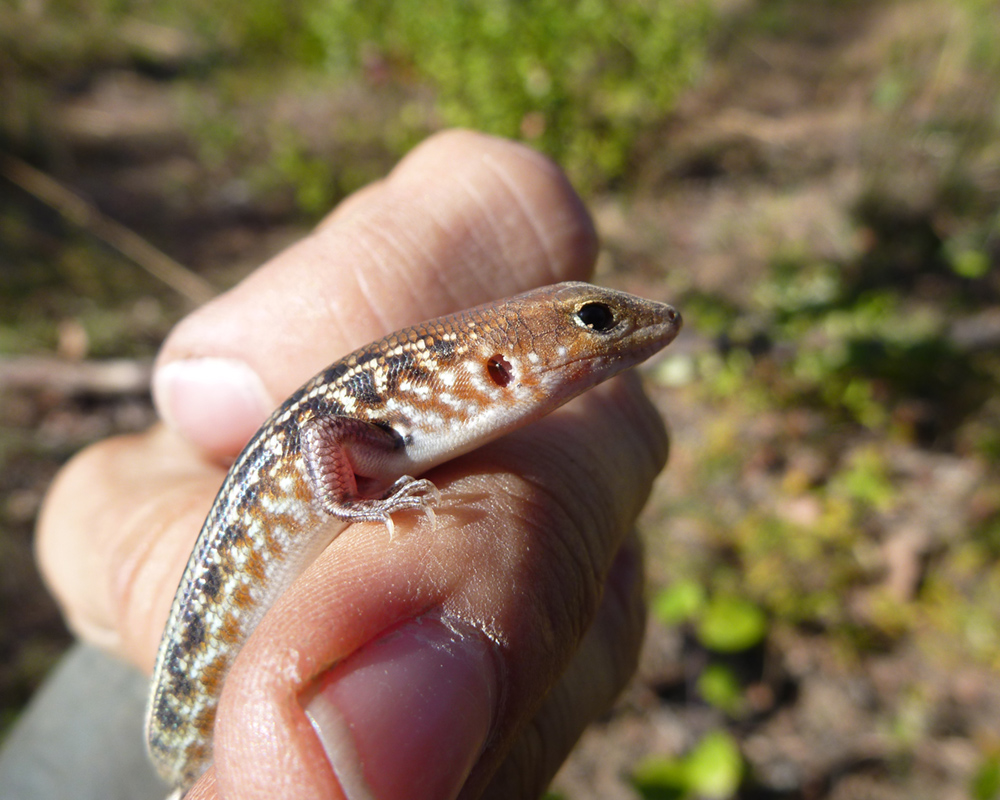 A small skink found in the study area, Alligator Rivers Ctenotus Ctenotus kurnbudj (IUCN listed as endangered). Photo: Northern Territory Government
"The research found that the combination of feral cats and high intensity fires adversely impacted reptile abundance," Dr Gillespie said.
"A cat's hunting efficiency was dramatically improved in situations where there was low ground cover, usually the result of high intensity fire.
"It is likely that, in the short term, the most effective mechanism for reducing predation impacts by cats on native fauna in tropical savanna regions of Australia will be through intensive fire management, aimed at reducing the extent, frequency and intensity of fire.
"Our findings also suggest that feral cat predation may be having a much larger impact on reptile diversity than previously recognised, and could be an important contributing factor to increasing their extinction risk."
The research was undertaken by the Northern Territory Government with the support of the Threatened Species Recovery Hub and the Northern Australia Environmental Resources Hub of the Australian Government's National Environmental Science Program.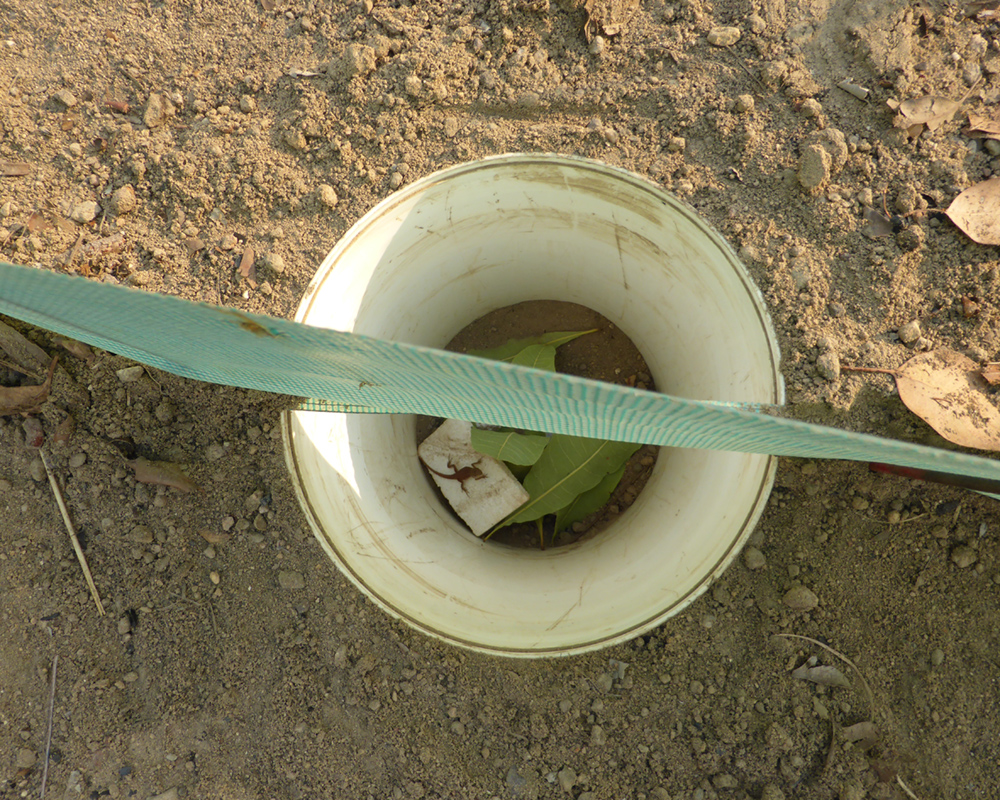 Pitfall trap used to capture reptiles. Photo: Northern Territory Government
The findings have been published in the science journal
Biological Conservation
.
Photos are available in
dropbox
for this story. Must credit Northern Territory Government.
Available for interview:

Dr Grame Gillespie
DENR flora and fauna acting executive director
08 8995 5025.
Additional media support:
Edwin Edlund
DENR Communications Manager
Edwin.Edlund@nt.gov.au
08 8999 4730
Top image:
View along the predator-proof fence. Photo: Northern Territory Government