Spatial ecology of feral cats at Taunton and Currawinya National Parks
Are you looking for an honours project? We are offering an applied honours project at the University of Queensland which will be undertaken in partnership with Biosecurity Queensland.
The project will investigate the spatial ecology of feral cats at Currawinya National Park (south-western Queensland) and Taunton National Park (central Queensland). We do not know whether feral cats use or show preference for particular habitats or focal points in these landscapes. The honours student will analyse spatial data to quantify and compare home range, habitat use, and activity times of feral cats at both sites, and interpret these data in terms of risks to threatened species at the sites (bridled nailtail wallabies, bilbies, and others), and ecology and control of invasive predators. Understanding spatial ecology of feral cats will enable more targeted monitoring and management.
The student will collect spatial data by GPS-tracking feral cats in conjunction with a Qld DAF-managed project to assess baiting program efficacy at Currawinya in 2019. This will supplement GPS data from collared cats (collected by Qld DAF) during 2016 and 2017 at Taunton, and 2018 at Currawinya. Fieldwork will be completed in collaboration with Qld DAF researchers.
This projects will contribute to TSR Hub Project:
1.1.3: Feral cat control for threatened species in Queensland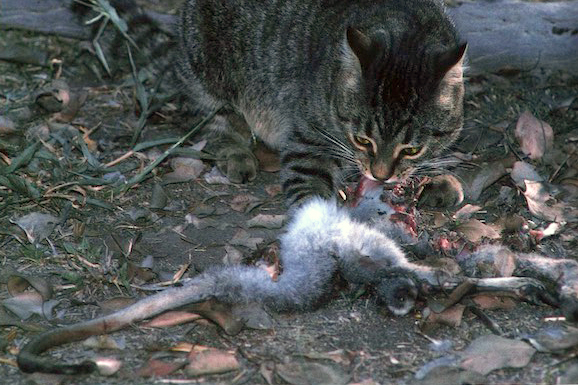 Cat eating a bridled nailtail wallaby. Photo: QDAF
Start
: Semester one 2019
Academic supervisor
: Diana Fisher (UQ)
Industry supervisors
: Bron Fancourt, Matt Gentle (Qld DAF)
Research questions

Do cats prefer more open vegetation structure, especially in the understorey? Is cat home range density potentially greater in central / south western Queensland than in the monsoon tropics and arid zone (where some recent detailed studies have been)? How are territoriality, home range density and activity times associated with climate and potential productivity / prey density, and how might this affect choice of control methods?
Some specific hypotheses are provided below. This is not exhaustive.
Hypotheses are presented only as one alternative to the null hypothesis. In reality, there may be several competing alternatives that would need to be considered. Sex and time (study year) differences etc. would also have to be considered.

Habitat use

H0: Feral cats use habitats in proportion with their availability, and show no preference for any particular habitat type
H1: Feral cats show significant preference for particular habitat types (e.g. sparse understorey)
#
use could be described as time spent within, or number of spatial locations within each habitat within their defined home range
Home range:

H0: Home range of feral cats at Taunton or Currawinya are not significantly different to those found in similar environs (climate/environment/productivity) and thus results from other studies can be used as a proxy
H1: Home range of feral cats at Taunton and Currawinya are significantly different to those found in similar environs (climate/environment/productivity) and thus site-specific results are required to inform management
H0: Feral cats have distinct, non-overlapping home ranges (for the majority of the time).
H1: Feral cats have overlapping home ranges
Activity:

H0: Feral cats at primarily nocturnal, with little activity during daylight
H1: Feral cats are not primarily nocturnal, with either diurnal or no significant temporal activity patterns apparent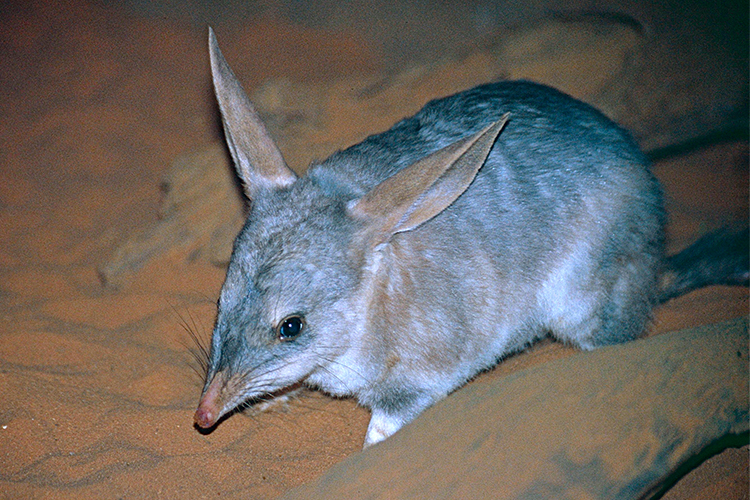 Greater bilbies are one of the threatened species that will benefit from the project. Photo: Bernard Dupont CC BY-SA Flickr
Resources

Qld DAF will provide access to historical cat movement data (Taunton x 2 years, Currawinya x 1 year) and supply equipment to complete the 2019 fieldwork component. QPWS will supply accommodation at the field site. Some vehicular assistance may be needed from UQ where unavailable from Qld DAF. UQ will provide support for student sustenance whilst in the field. The majority of the fieldwork can be completed in conjunction with Qld DAF.
Library access, desk space and computer/software support (e.g. access to a PC, and GIS/analysis software) provided by UQ.
Timing

From early 2019 – acceptance, academic preparation, research plan, initiate literature review, refine research questions. Collate and refine existing data.
Late April/May/June – assist in trapping and monitoring feral cats and conducting camera monitoring
Late July/early August – assist in camera monitoring of feral cats and bait uptake during baiting trial, tracking collared cats and remotely downloading GPS data
Sept/Nov – data collation and analysis, submission
Applications
To apply email Associate Professor Diana Fisher, School of Biological Sciences, University of Queensland.
d.fisher@uq.edu.au
Applications close December 2018.
Top image: Feral cat. Photo: Joe Scanlan, QDAF