I am a proud Murri from the Kamilaroi Nation in north-west New South Wales. I grew up in western Sydney on Darug land and now live in Canberra on Ngunnawal land.

I completed a Bachelor of Science (Environmental Science) at the Australian Catholic University (ACU) and a Masters of Science (Hydrogeology and Groundwater Management) from the University of Technology, Sydney.

As a scientist, my expertise is in water. Water is always going to be a key topic for Australia as it is the driest inhabited continent on earth. But much of our water policy was developed without consultation with Indigenous people or our Traditional Knowledge. I am currently a PhD candidate at the University of Canberra. My PhD topic is: Incorporating cultural values and perspectives of Aboriginal people into water planning and environmental water management. I decided a research-based study was needed to show credible evidence of the value of water for Aboriginal peoples, and how modern-day water planning can accommodate these values.

I have an ambition of leading in my area of expertise and promoting Aboriginal Traditional Knowledge (culturally appropriately) and finding commonalities between Traditional Knowledge and traditional science and Western science, so this can influence policy and the way we manage the Australian landscape.

I am also the Indigenous Liaison Officer for the Threatened Species Recovery Hub. In this role I work with threatened species researchers, hub leadership and Aboriginal communities on culturally informed research for threatened species recovery. I get to see and hear some of the most current and effective threatened species recovery research in the world, which can include Traditional Knowledge.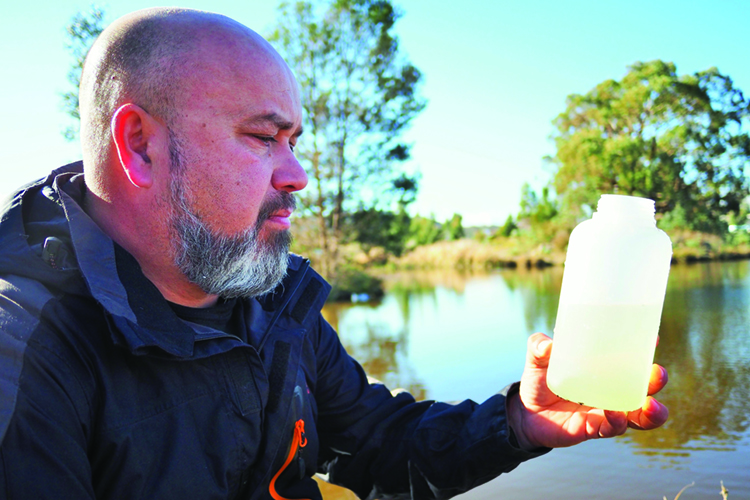 Top image: Bradley Moggridge at work at Ginninderra Creek in the Capital Country region. Photo: Karen Moggridge

I am guided by the hub's Indigenous Engagement and Participation Strategy and by the hub's Indigenous Reference Group – an amazing group of Indigenous people  with diverse expertise from across the country. Our aim is to promote respectful and meaningful engagement with Indigenous people about the hub's research, and to support Indigenous engagement with  projects – co-led projects are one part of the spectrum.

Some of the highlights of my work with the hub have included assisting with a submission for the Senate inquiry into species extinctions and then presenting it at a Senate hearing, and collaborating on scientific journal and Conversation articles with the hub's leadership team.

I have been lucky enough to travel and tell my story at many conferences in Australia and overseas, including presenting a paper at the 2019 NAISA Conference at Waikato University, New Zealand and giving keynote presentations at the 2018 Ecological Society of Australia conference and the 2017 Alliance for Water Stewardship Global Forum in Edinburgh, Scotland.

I was recently awarded the 2019 NAIDOC ACT Scholar of the Year, and it was a great honour to be recognised by my peers and mob. I was further humbled to be awarded the inaugural Academy of Science's Aboriginal and Torres Strait Islander Travel Award for 2018, which allowed me to travel overseas to engage with Indigenous people of New Zealand. Further, I was awarded by ACU the Aboriginal and Torres Strait Islander Alumni Award for 2017.

Top image: Bradley Moggridge at work at Ginninderra Creek in the Capital Country region. Photo: Australian Catholic University